Registration Fees
Inexpensive fees and no admission makes America On Stage events amongst the best!

Dance Fees
Teams
Pre-Registration - Before Dec 23rd $20/event
Mid - Registration - Between Dec 23rd and Dec 30th $23/event
Late Registration - Between Dec 31st and Jan 10th $25/event
Day of the event Registration - $26/event

Queen Solos
Pre-Registration - Before Dec 23rd $100/event
Mid - Registration - Between Dec 23rd and Dec 30th $110/event
Late Registration - Between Dec 31st and Jan 10th $120/event
No day of registration for Queen Solos, Duos or Trios
Queen Duos
Pre-Registration - Before Dec 23rd $135/event
Mid - Registration - Between Dec 23rd and Dec 30th $145/event
Late Registration - Between Dec 31st and Jan 10th $155/event
No day of registration for Queen Solos, Duos or Trios
Queen Trios
Pre-Registration - Before Dec 23rd $165/event
Mid - Registration - Between Dec 23rd and Dec 30th $175/event
Late Registration - Between Dec 31st and Jan 10th $185/event
No day of registration for Queen Solos, Duos or Trios
Difference between Queen and Standard? Click Here
Standard Solos
Pre-Registration - Before Dec 23rd $65/event
Mid - Registration - Between Dec 23rd and Dec 30th $75/event
Late Registration - Between Dec 31st and Jan 10th $85/event
No day of registration for Standard Solos, Duos or Trios
Standard Duos/Trios
Pre-Registration - Before Dec 23rd $85/event
Mid - Registration - Between Dec 23rd and Dec 30th $95/event
Late Registration - Between Dec 31st and Jan 10th $105/event
No day of registration for Standard Solos, Duos or Trios
Clogging/Power Tap Fees
Pre-Registration - Before Dec 23rd $20/event
Mid - Registration - Between Dec 23rd and Dec 30th $23/event
Late Registration - Between Dec 31st and Jan 10th $25/event
Day of the event Registration - $26/event
---
Programs/ Schedules
Know the minute you are going to be on stage with the America On Stage Online Programs!
2024 Estimated Schedule
(Updated September 1, 2023)
This estimated schedule shows an estimated schedule of times we assume
Updated Competition Schedule
(Update December 20, 2023)
Adjusted schedule from initial registration
Director's Packet
(Updates December 20, 2023)
This packet includes all the updated info you need.
Schedules, location, awards info
2nd Updated Competition Schedule
(Updates January 3, 2024)
Further adjusted schedule from further registration
Final Programs
(Posts online January 12, 2024)
Final Program
Full Program listed in time order
Dancer's Personal Program
Your personal program showing just your times
Director's Program
Your personal studio program showing just your dancer's times
---
Location
Clackamas High School
14486 SE 122nd Ave, Clackamas, OR 97015


Upload your competition music!
Upload your solo, duo and team music!
---
Age Division and Overall winners!
See all your Results and the Overall Winners in each level
SUPERStars
See Today's SUPERStars and the Current SUPERstar Rankings
Director of the Year rankings
See where your studio ranks among all studios rankings
Thank you for coming!
See you next year!
---
Pictures!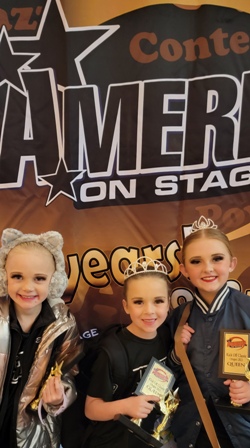 See all the great pictures of from the event!