America On Stage Latest News!
What a year....We were able to compete 6 competitions of the year and 8 competitions were not able to be held due to the Corona Virus.
But there is light and excitement ahead....!
Currently, none of us are able to be be in groups larger than 50 people. This means competition can't be held until we get to phase 4 of our reopening (Green).
This opens up convention centers, concerts, and competitions which mean large groups can gather.
But Utah is planned to go into Green in late August and that means we can compete together!
We've discussed a Nationals in June, however...
Many directors are not even able to get together in their studios yet.
Lots of teams are just preparing for some version of their year-end show, let alone Nationals preparation.
Utah is still not allowing large group gatherings such as competitions until we enter the Green phase (Looking towards late summer).
Most directors I have spoken to are ready for a change in this waiting game.

And we are moving quickly into summer. Dancers are planning vacations, summer camps, and family events.

While things are going to keep opening up, it still seems unlikely we will be able to get permission for groups as large enough as a competition to compete as we do together in June or even July.
And the great waiting needs to come to a change.
So we have been speaking to Lagoon and they pitched a great idea.


Normally, we kick off their year in May. In this crazy year of 2020, instead of opening the year, what if we concluded their year by running our Nationals in conjunction with their
huge Halloween festival - FRIGHTMARES! One of the most fun times at Lagoon in October!
This exciting festival features so many fun games, events, Halloween specialties and allows us to do something special once again with Nationals!
Moving to October allows studios to move into summer programs in June (which we are all ready for),
Gets us back into our fall classes on time and with time to plan,
and gives us time to get ready to compete.
We'll have 7 weeks to get ready any and all teams who want to compete.
This will be a Nationals to remember with some special and exciting things.
See Below the graphic for more Nationals information and specific questions.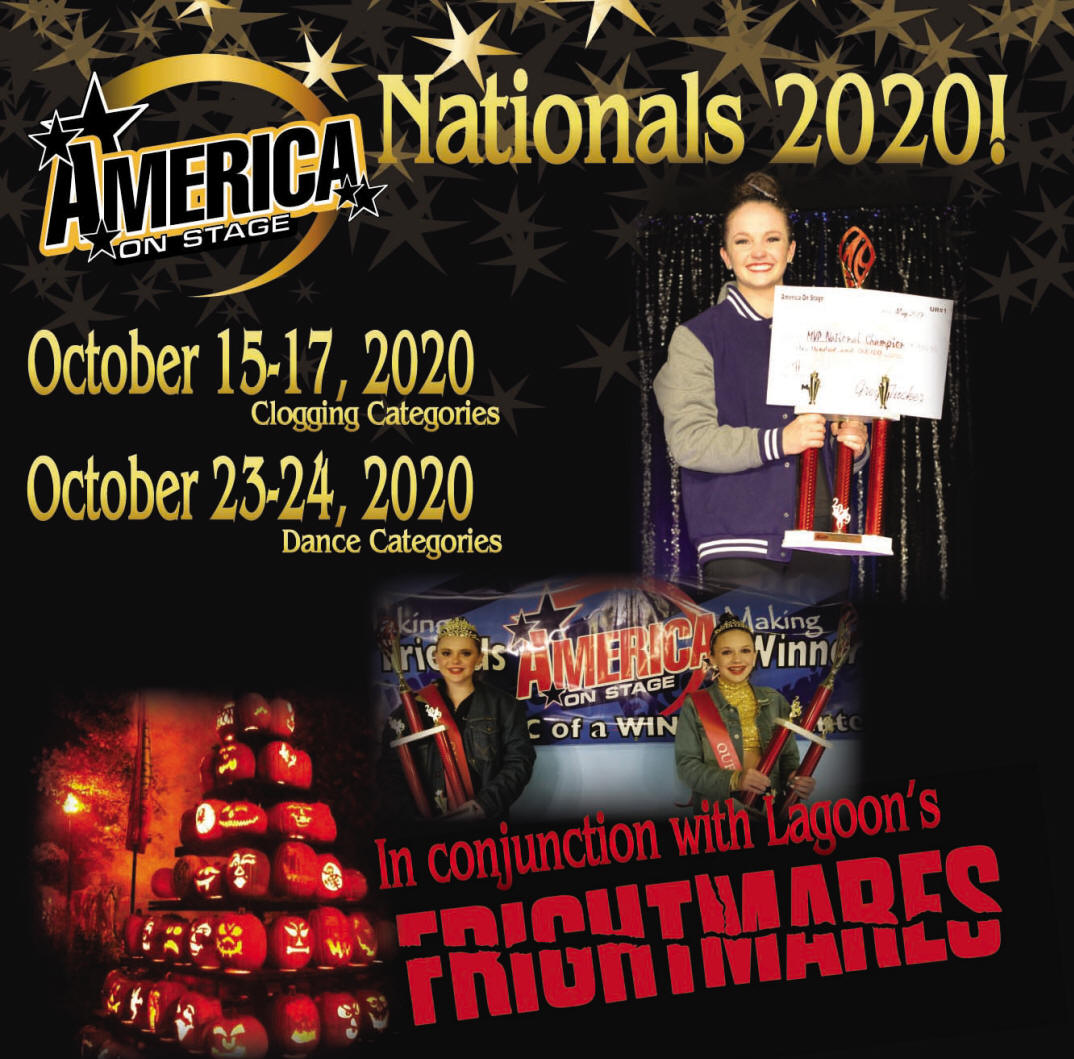 There will be a lot more information to come for Nationals 2020, but here's a start:
1. 2020 Season
We will run Nationals as an extension of the current year of competition. All results, points and awards from Nationals will go towards the 2020 year.

2. 2021 Season
The 2021 year will start three weeks later at Autumnfest Nov 6-7.

3. Nationals
At Nationals, we will run the competition just like normal with freestyle, duets, teams, Jr. All-Americans, All-Americans, and MVPs.
This competition will probably run over 3 days. It's Fall Break in Utah, and we will get a schedule out towards the end of summer.

4. All-Around Solos
At Nationals in October, we will use the current 2020 All-Around Solos.
The 2021 All Around Solos will start at Autumnfest 3 weeks later.
Challenge Solo will stay the same throughout 2021. There will only be two new solos this year - Percussion and Traditional.

New All-Around Solos will be available June 1st like normal. We encourage studios to teach the new solos all summer, keep the two old solos fresh for Nationals
and compete all you know at Nationals, and compete the new solos at Autumnfest in November.
5. What level shall I compete at Nationals if I move up over the summer?
Dancers may compete at Nationals the level they competed this year so your SUPERStar points combine as they would if it were held in May. Consider it as just an extension of the year as we know it. However, you are welcome to dance in a higher category if you so choose. SUPERStar points are still added for you in the level you compete, so consider that as you select your categories. We are just fine in dancers moving up over the summer and competing in their 2020 level. We'll have more information on this as we get closer.
6. What if my teams are not ready?
We know many teams will be starting over in August and September. Bring anything you want to compete. If it's just solos, bring them. If you have a team holding over, bring them.
7. What next?
We'll have more information for you over the summer. For now, enjoy your end of year programs in whatever way you are going to have them, and keep that hope and enthusiasm up. Good things are ahead.
Until we meet again on stage, keep hope alive by dancing always.
Greg