America On Stage Online Registration!!!
Our 36th year... going to be one of the best ever.
Designed for Directors attending America On Stage Competitions to make registration easy for you! Register and Re-Register!
No longer do you need to re-enter all the information when you register again, simply "Re-Register" your dancers! It's SO EASY!


Only use the first time, after registering Director, go directly to the registration forms - step 2 Please have DIRECTORS only sign up their studio.
------------------------------------

------------------------------------


------------------------------------

By registering with America On Stage you agree to the
following terms and conditions.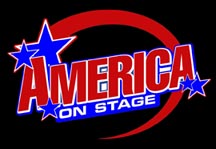 Quick Questions
1. If you have no director, select "No Director" as your Director on Registration Forms

2. Or Download Registration forms here.
(Mailed Registration is just a 5% studio grant. Online Registration is up to10%.)

3. Pre-registration is 4 weeks prior to event. Registration After that is late and subject to late fees. 17 days prior to event, the final schedule is posted online and Online Registration is Closed. Register BEFORE this date! At-the-Door Registration may be available. Contact event promoter for more info.
------------------------------------
Take an Online Registration Tutorial to learn the latest changes and updates!
---
HELP AND TROUBLE SHOOTING ISSUES WITH ONLINE REGISTRATION
*If you have problems switching between registration pages, turn off any pop-up blockers you have on your computers.
*This site works best when used in Microsoft Explorer. If you are using a different browser such as Netscape or Mozilla, some functions might not work.
*If you experience any registration issues, try using Explorer and see if that makes any difference. Thanks
*E-mail America On Stage with any problems you need help with by clicking here.
**Remember to be eligible for a Studio Development Grant, you must either pay with a CREDIT CARD, or send a CERTIFIED CHECK, CASHIERS CHECK, or MONEY ORDER. PERSONAL CHECKS ARE NO LONGER ELIGIBLE FOR STUDIO DEVELOPMENT GRANTS.